Blitztrumpf custom bike card game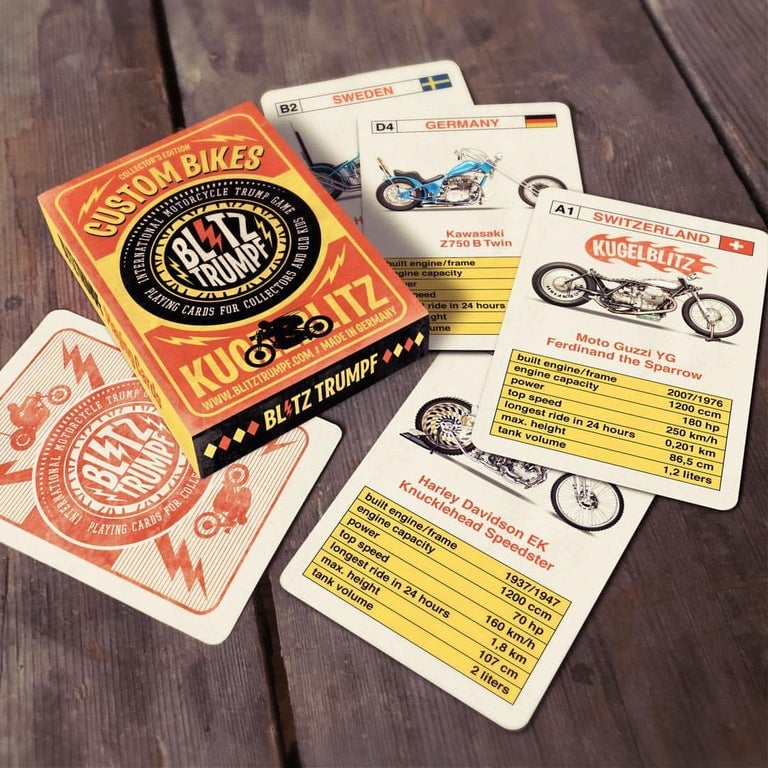 These are the very last ones of the second print run that are left.
32 super ace playing cards with the dopest custom motorcycles coming in a matching ice cool cardboard box.
Among the selected bikes there's builds from the USA, Scandinavia and Europe you find bikes by some of the most notorious builders like
Baloo Racing, Berham Customs, Ehinger Kraftrad, Flying Choppers, Herzbube Motorcycles, Jamesville Motorcycles, Joakim Krantz, JT Brothers Motorcycles, Kingston Custom, Lucky Cat Garage, Mikki Motors, Pacoima Motorcycles, Planet10, Urban Motor, Young Guns Speed Shop
photographed & selected & designed
by Harry Brack & David Biene
The first 500 copies will get a little extra with it.
UPDATE: the first 500 are long gone. From now on the extra is not part of your order anymore. SORRY, you've been too late ;-)
But the sticker is still part of the package as long as supply lasts.
Please drop me a mail if your origin isn't in the pull down list for shipping yet.
Please note that the shipping might be more if you order more than 3 decks.